Second Cape May Baptist Church
Thursday, May 23, 2019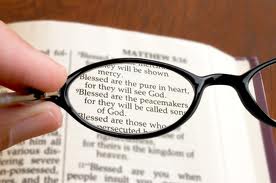 Week 8 - Let God Choose: Part 2

What are some of the consequences of being filled, or controlled by the Holy Spirit?

Galatians 5:22-23
Ephesians 5:18-21
John 7:37-39

How do we respond to those who would say; "I don't have to share my faith God will save them anyway?"

Romans 10:14-15
Matthew 28:19-20
Mark 16:15-16

Is it proper to "observe" another "Christian" and determine if they are really a believer?

Can the Lords work be accomplished through unbelievers?

Can you give some biblical examples of true men and women of God who fell into sin, repented and then were used of the Lord to do great things?

Week 7 - Let God Choose: part 1

What are some of the ministries of the Holy Spirit?

Romans 3:10-18
1st Corinthians 2:14 & 4:3-4
John 16:7-11
Titus 3:5

How long should we wait on the Lord for direction before we make a move on our own?

What actually changes in a person when they come to Christ?

2nd Corinthians 5:16-17
Ephesians 4:22-5:2
Colossians 3:9
Romans 6:4

What is the role of God the father, God the Son, and God the Holy Spirit in salvation?

John 14:6
John 16:7-11

2nd Corinthians 5:19
Matthew 20:28

Week 6 - Leaving a Godly Legacy

Who & what are the most powerful influencers of the next generation?

It's hard to "compete" with the "fun" the world has to offer our kids. What are some principles we need to teach them to help them navigate the temptations they face?

1st John 2:15-17

Romans 12:1-2

What part do the following practices play in raising up the a godly next generation…

Family "devotions" or Bible study – Deuteronomy 6:6-9
Parents (and other adult family members) being positive role models – Ephesians 6:4
Praying for our children, grandchildren, neighbors' kids, etc. – Colossians 1:9-12

How can the church partner with families to positively impact the next generation?

PREPARE for NEXT WEEK… Read Genesis 24 to get ready for Pastor Jim's message that will wrap up our Jesus In the Family series!

Week 5 - A Balance of Love & Discipline

If you had to choose what was more important to display in a situation, would it be truth or love?

II John 3
Matthew 23:23
I Corinthians 16:13-14




You see a pair of Jehovah's Witnesses walking on your street. Should you approach them and engage in conversation or pretend you are studying the grooming habits of squirrels?

II John 7-11
Acts 26:28-29




Share some personal experiences of conversations you've had in the past sharing your faith. What would you like to have said differently now that you've grown in your faith?




What are the proper steps to take when a brother or sister is in open sin and you are the one who knows about it?

Matthew 18:15-17
Ephesians 4:32
Acts 5:1-11

WEEK 4 -Training by Example

Who are some of the great examples of role models in Gods word that come to mind and why are they good examples?

Do you think it is okay and "sit back" and just let Gods will happen? Can I even change the will of God? Isn't everything under grace anyway?

Ephesians 2:8-9
Isaiah 64:6
James 2:18
Matthew 7:16-17

Can we always assume that those who appear to be doing the Lords work in obedience and faith are really being used by God?

Pastor talked about setting the example in our prayer lives within our families. Where in scripture can we find examples of prayers and models for prayer? Should our prayers be long, short or somewhere in between?

Matthew 6:9-15
I Kings 18:36-38
James 5:16

Which of the following should we be more focused on as Christians?

Worship (Luke 2:36-37, Psalm 84:10)
Equipping the saints (Hebrews 13:21, 2 Timothy 3:17)
Evangelize the lost (Matthew 28:19-20, Acts 1:8, Mark 16:15)

Week 3 - Acceptance of God's Will

How do I find Gods will for my life and how do I know if I am in Gods will?

2 Timothy 2:15, 3:15-17
Ephesians 5:15-17




Is it okay to worry, or is it a sin? What "concerns" in your life cause you to lose focus?




What must each of us do as Christians? Are we supposed to give everything to the poor and go into ministry?




What would be the most difficult person or thing for you to sacrifice to the Lord? Would you be willing to send your son or daughter off to the mission field, what about your grand kids?




Are vows good to make, or am I better off not to vow anything, with a "wait and see what happens attitude"?

Ecclesiastes 5:4-5
Revelation 3:14-18

WEEK 2 - A Pattern of Obedience

Read the following scriptures and think about or discuss how the noted themes emerge...

Spiritual Battles – Ephesians 6:10-20, Daniel 10:10-13, Revelation 20:3

Prayer – Ephesians 6:18, Romans 15:30, Acts 1;14
Miracles – Revelation 11:5-6, Joel 2:28-31
Forgiveness – 1st John 1:9, Luke 15

Consider & discuss...


Which individual or individuals have set the greatest Christian example to you in your life?

Where in scripture are we commanded to take part in intercessory prayers, and can you name any occasions where intercessory prayer occurred?
Does God still perform miracles like women giving birth at age 90, or are miracles finished when the Bible was completed?

Discuss the "Prince of Persia" in Daniel chapter ten and the "struggles" of Ephesians 6:12.

Does God forgive us of our disobedience or do we somehow pay for our poor decisions?

Week 1 - Jesus In the Family

Which key point should your family focus on right now...

A Pattern of Obedience
Acceptance of God's Will
Training by Example
A Balance of Love & Discipline

What would look different in your family if that key point was applied?